ICT Holds P&C Insurance Symposium
The Insurance Council of Texas (ICT) welcomed approximately 300 insurance professionals to its 27th annual Property & Casualty Insurance Symposium in Austin on July 11-12, 2019. Presentations included a review of the recent legislative session, an overview of natural disasters and their effect on the Texas insurance market, and a look at the future of autonomous transportation.
During the symposium, ICT presented the Raymond Mauk Leadership Award to Verle Petri. The award recognizes those who have made notable contributions to the Texas property and casualty insurance industry. Petri has served the industry for more than 65 years, beginning his career in insurance as an underwriter with Pacific Employers Insurance Company. He then became Marketing Manager for the Pacific Indemnity Insurance Company, which was later purchased by Chubb. In this role, Petri advocated for and worked with the former State Board of Insurance (now the Texas Department of Insurance) and worked on issues related to the Texas Windstorm Insurance Association (TWIA). Petri retired from Chubb in 2017 after holding various management roles and assisting the organization on regulatory issues in Texas.
"On behalf of ICT and its board of directors, we are honored to recognize Verle with this leadership award," said Albert Betts, ICT Executive Director. "I had the pleasure of working with him on many different insurance issues over the years. He has always been a man of honor and grace, and a stalwart in the property and casualty industry.  More importantly, throughout his career, he set an example of how a professional should carry themselves."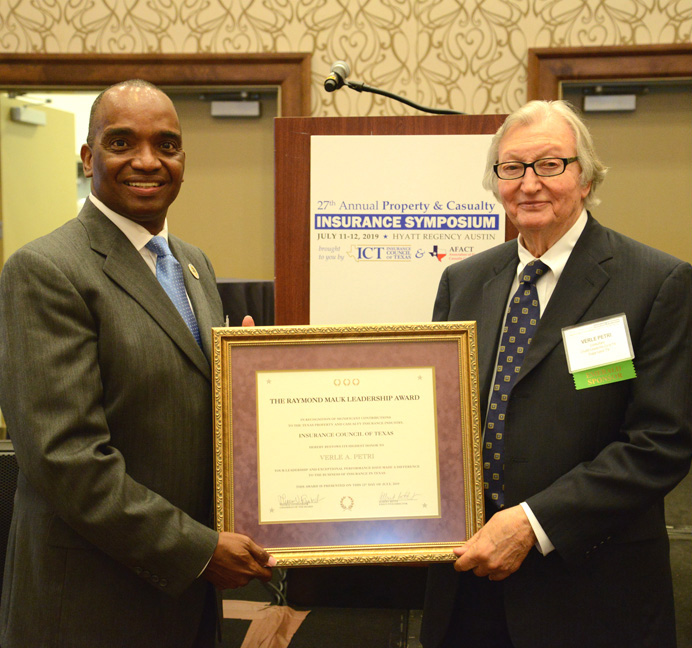 ICT Executive Director Albert Betts (left) and Raymond Mauk Leadership Award recipient Verle Petri