Purchasing Group Flag Deployed in SLTX EFS
A new feature allowing agents and brokers to indicate whether or not an insured is a purchasing group is now available within the SLTX Electronic Filing System (EFS). A "Yes" or "No" button has been added, so that SLTX may record purchasing group policies. Anytime the insured is a purchasing group, this flag should be checked as "Yes."
The button is only accessible for new and renewal policies, and it functions in the same way as buttons noting that an insured is an exempt commercial purchaser or an industrial insured.
A new schema has been added to the SLTX Programmer's Technical Reference Guide to reflect new procedures for automated filers. SLTX has updated both its Agent/User Guide and Programmer's Technical Reference Guide to reflect this addition. The guides are available within the EFS portal, under the "Help" section, "Documentation" tab.
Agents or brokers who have previously filed a purchasing group policy with SLTX are not expected to retroactively apply the new button but should select it on any purchasing group policies moving forward.
The Texas Department of Insurance (TDI) adopted a new regulation, effective December 30, 2018, requiring all surplus lines policies procured for purchasing groups to be filed with SLTX (28 TAC §15.115). Those who have not yet filed purchasing group policies are encouraged to do so in a timely manner so that SLTX can assist in mitigating any late filing consequences.
For additional questions, please contact the SLTX Tech Support Team by phone at (512) 531-1880 or (800) 681-5848, or by email.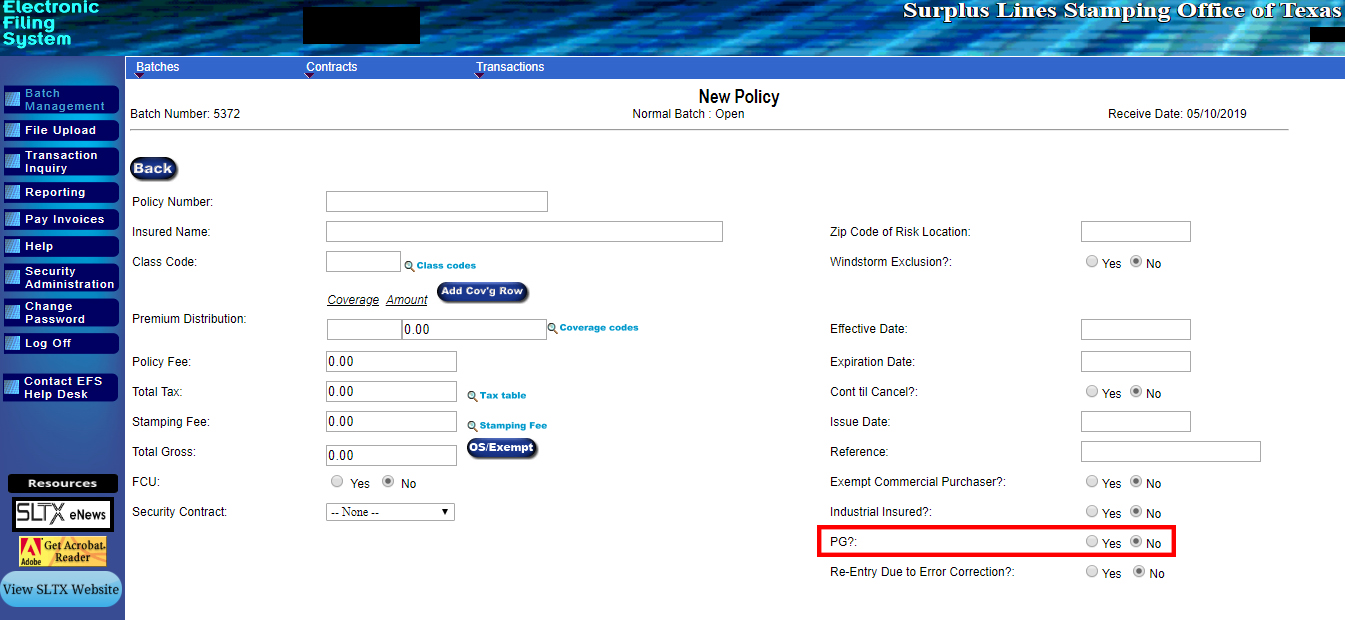 A screenshot of the EFS portal, including the new purchasing group button. Click above to expand the image.