Private, NFIP Flood Premium Increases in Texas
The flood insurance market has been a topic of discussion in the industry over the past few years in Texas and nationally, with the rise in popularity of private flood insurance and the ongoing reauthorization of the National Flood Insurance Program (NFIP). In evaluating flood insurance policies in the surplus lines market and through the NFIP, surplus lines flood insurance premium in Texas filed with SLTX has increased annually over the past five years. Additionally, while NFIP premium dipped in 2017, it rose in 2018 and Texas premium has made up an increasing share of US totals since 2013.
Surplus lines flood insurance in Texas has grown significantly over the past few years. In 2016, SLTX recorded $19.13 million in flood premium, which grew to $33.13 million in 2017 and $36.07 million in 2018. Through the end of 2019, $46.46 million in premium has been recorded. In comparing recent years, premium tends to jump up in the summer months, though it spiked in September 2017, right after Hurricane Harvey hit the Texas coast, and again in November 2017.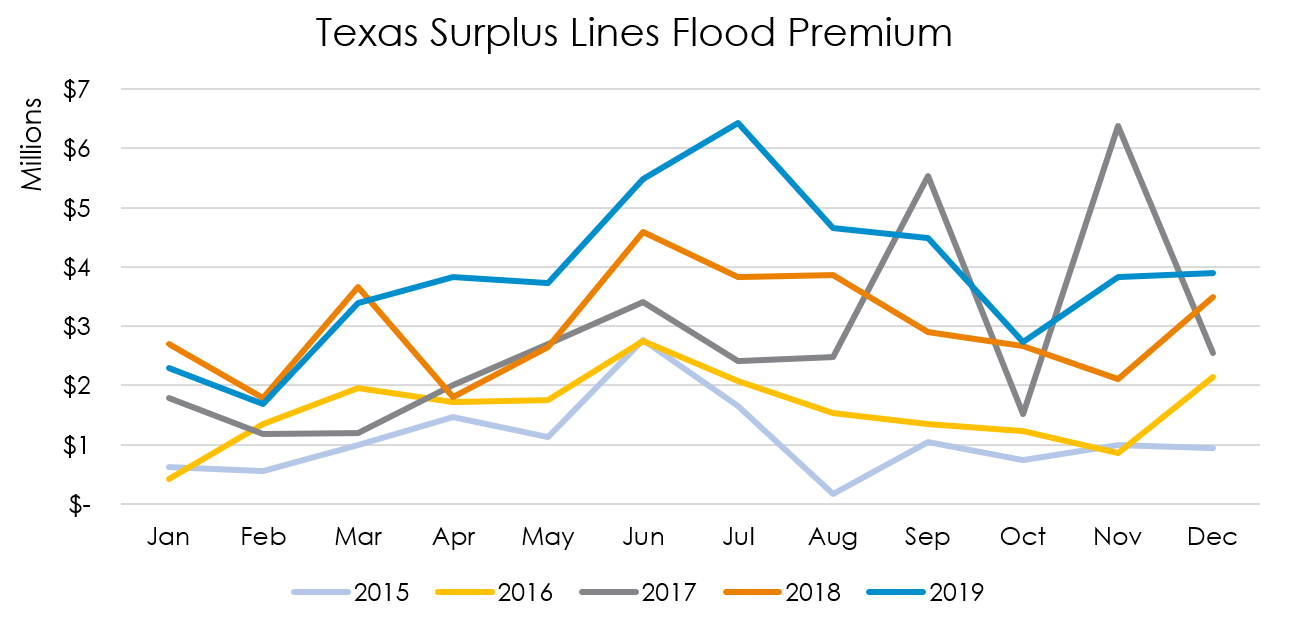 The Texas legislature recently passed House Bill 1306, a law that creates a diligent effort exemption for flood policies placed in the surplus lines market. The Texas Insurance Code holds that an eligible surplus lines insurer may only provide coverage if the full amount of insurance required cannot be obtained from an admitted insurer, and the coverage provided may only be in the amount that exceeds coverage obtained from an admitted insurer. However, HB 1306 states that these requirements do not apply to flood coverage provided by an eligible surplus lines insurer that has a financial strength rating of A- or better from the A.M. Best Company.
Writing in support of the law, Ray Lehmann, co-founder of public policy research organization R Street Institute, notes that private flood insurance, which includes non-NFIP admitted policies and surplus lines policies, in Texas reached $63.22 million in 2018, up from $53.51 million in 2017 and $31.77 million in 2016. During the same time, the US private flood insurance market recorded $701.80 million in 2018, compared to $641.88 million in 2017 and $412.62 million in 2016, according to data from S&P Global Market Intelligence.
In evaluating NFIP policies, US premium reached $3.66 billion in 2018, up only slightly from $3.60 billion in 2017. While the premium recorded has remained relatively stable, the share of Texas premium within that total has increased. Texas premium made up 12.0% of the 2018 total, with $438.95 million. This share has remained stable or increased steadily since at least 2013.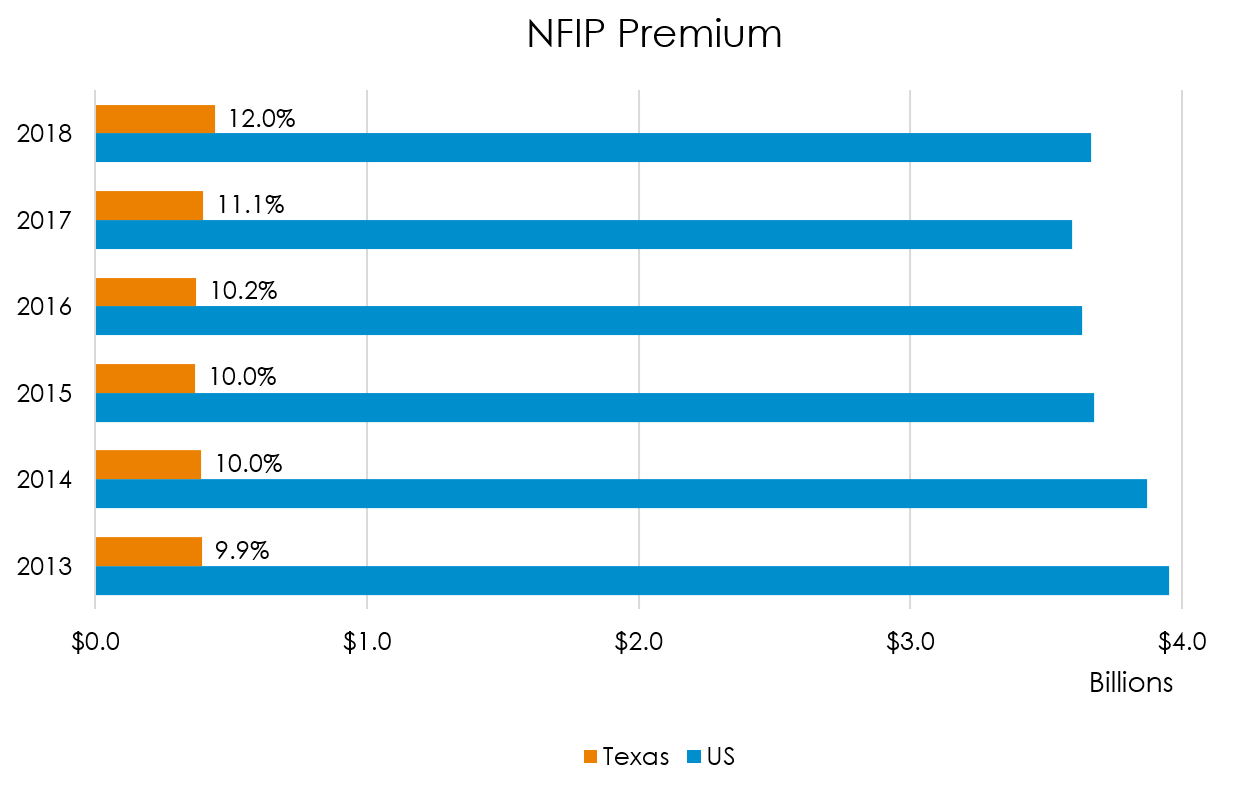 The Federal Emergency Management Agency (FEMA) provides non-identifying policy data but notes that the NFIP legacy system operates on a monthly cycle and it may take several months to resolve flood insurance policies and claims errors. This means that data for recent months may not be as accurate until a few months have passed.
The NFIP has been in place since 1968, but Congress must regularly renew its statutory authority to operate. The program is currently authorized through September 30, 2020, after an extension was built into a major federal funding bill passed in December 2019. While some members of Congress have introduced measures to reform the NFIP and extend it for a long-term period, it has now undergone 15 short-term extensions since 2017 with no significant modifications in that time.
Even during periods of government shutdowns, FEMA has never failed to honor NFIP policies. However, if the program lapses, no new or renewal policies could be sold, though payment of claims would be made with available funds.
In the wake of recent catastrophic weather events, Texas is still recovering from damage, including flood damage, inflicted over the past few years. Governor Greg Abbott continues to extend the disaster declaration in effect for the Texas counties impacted by Hurricane Harvey in 2017, which must be renewed monthly and is necessary to ensure disaster resources are available to the affected counties. Additionally, more than 70% of Texas homes that flooded during Tropical Storm Imelda in September 2019 were located in areas at a low risk of flooding, according to FEMA. Of the more than 10,000 flood insurance claims filed with the NFIP after Imelda, 71% were in low-risk flood areas. Additionally, 57% of all Harvey claims were in low-risk areas, and an average of 60% of all flood damage nationally occurs in low-risk flood areas.
Increased flood premium in Texas suggests that more consumers are purchasing coverage, possibly in response to catastrophic weather events, such as hurricanes and flooding. While Congress has taken steps to make the private flood insurance market more accessible and the Texas legislature has removed barriers to make procuring surplus lines flood insurance simpler, the NFIP remains the most popular option and will stand in its current form until September 2020. Greater availability of flood coverage through the NFIP or private market is a positive occurrence in the state and nation that may help consumers respond to flood damage and lead to the closure of a protection gap between those with flood insurance and those without.