TSLA Meeting Packs Full House
Amid new state laws and the ever-changing landscape of the insurance industry, the Texas Surplus Lines Association (TSLA) held its annual meeting in Austin, Texas, on November 12-13, 2017. Members of the Surplus Lines Stamping Office (SLTX) executive team were in attendance.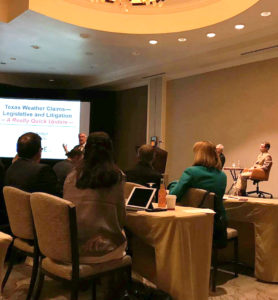 In addition to networking opportunities, TSLA hosted several speaker presentations during the event. TSLA Attorney Keith Strama, with Beatty, Bangle & Strama, moderated a panel discussing hail litigation and House Bill 1774, which took effect days after Hurricane Harvey hit the coast of Texas. Steve Badger, with Zelle LLP, Richard Trabulsi Jr., co-founder and President of Texans for Lawsuit Reform, and State Representative Dade Phelan, whose district sits on the Texas coast and borders Louisiana, participated in the panel.
Along with the impact of Harvey on the state, the panel addressed the misinformation in the marketplace in the wake of the hurricane. In the long run, Badger said he believes consumers will begin looking to the private market for the availability of flood insurance in areas outside of flood zones.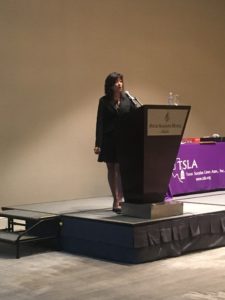 The TSLA Texans Under 40 also hosted a service project and assembled more than 90 care packages that will be sent to active military members around the world. SLTX CIO Tara Mitchell, SLTX CFO Kyle Bolls and SLTX board members Andrew Fieker and Kyle Streetman all participated in the event.
Norma Essary, SLTX CEO, provided an update on the state of the surplus lines industry, noting Texas has recorded $4.6 billion in surplus lines premium through the end of October 2017, a 6% increase over 2016. In addition, flood policies have grown 228% since 2008 and are expected to continue an upward climb.
The annual meeting wrapped up a successful year for the surplus lines market and previewed what is to come. The industry is growing in many areas and there is much to look forward to in 2018.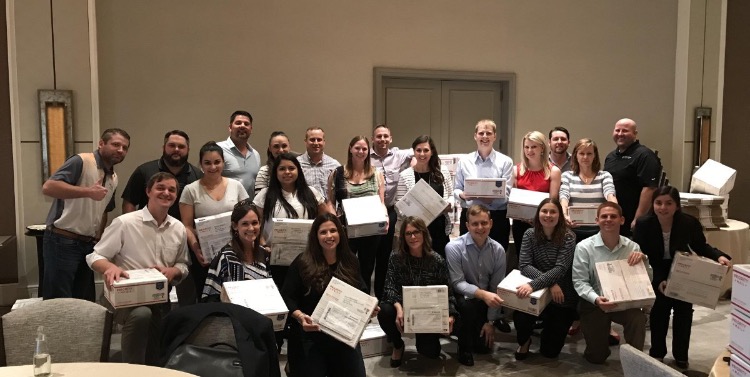 Members of the TSLA Texans Under 40 group put care packages together that will be sent to active military personnel.