TLR Study Shows Decrease in Lawsuits Following HB 1774
The number of weather-related lawsuits filed in Texas dropped significantly following the passage of House Bill 1774 in 2017, according to a report by tort reform group Texans for Lawsuit Reform (TLR).
The organization found that from January 1, 2014, through June 30, 2018, nearly 35,000 weather-related lawsuits were filed throughout Texas, averaging 640 new lawsuits per month. In the six years prior to 2012, less than 4,500 were filed, an average of 62 per month based on research conducted by TLR.
In August 2017 alone, the month before HB 1774 took effect, 1,553 weather-related lawsuits were filed. Since then, the number of cases has dropped but has shown a slight increase through 2018.
During the last legislative session, the Texas Legislature voted 92-55 in the House of Representatives and 21-7 in the Senate to pass the bill, which was aimed at reducing the number of lawsuits filed following severe weather events. The took effect September 1, 2017, which coincided with Hurricane Harvey's impact on the Texas coast.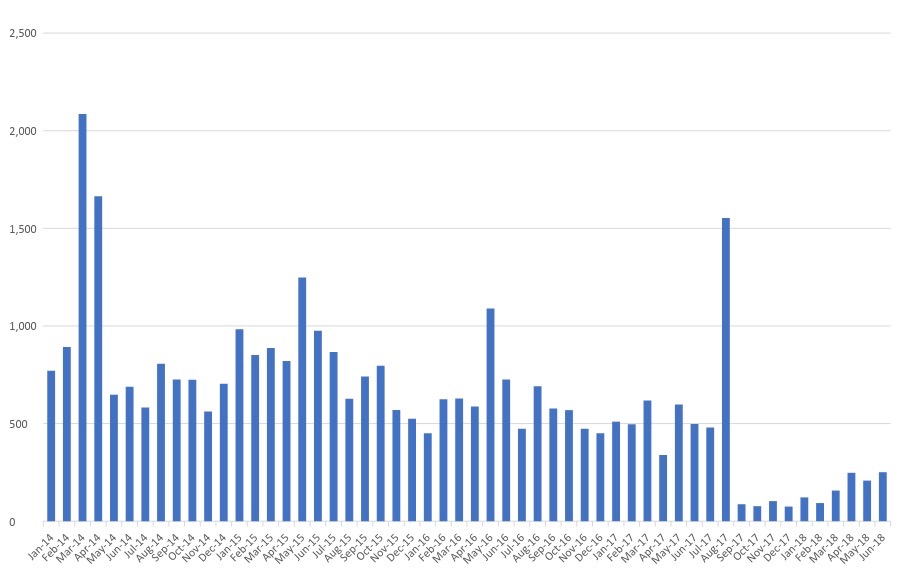 The number of weather-related lawsuits filed per month, January 1, 2014, to June 30, 2018.
Source: Texans for Lawsuit Reform