Texas Women Recognized as Elite Women in Insurance
Several Texas insurance professionals have been named as Insurance Business America's Elite Women 2020. The list celebrates 77 female leaders in the industry who are making strides and forging a path for generations of men and women to come. This year's class of women includes C-level executives, directors, and vice presidents, as well as entrepreneurs and specialty program experts, among others.
The following Texas women were recognized as Elite Women in Insurance:
Laura R. Beckmann serves as President and COO of AmRisc, an underwriting company specializing in E&S, technical property, and catastrophe. Recently, AmRisc has launched a formal mentorship and corporate citizenship program and is focused on expanding their leadership team. Beckmann serves as a board member and vice chair of the volunteer committee for the Houston chapter of the Insurance Industry Charitable Foundation.
Jennifer Hicks, a Managing Director for Marsh Wortham's San Antonio Office. She works with a wide range of clients of various industries and sizes. In addition, she collaborates with senior-level colleagues and project specialists to better analyze underlying risks and accounting needs. Hicks is also the co-head of Marsh's community service subcommittee and is a member of the culture committee.
Kori Johanson is the Global Chief Compliance Officer and Corporate Senior Vice President for the H.W. Kaufman Group. In addition, she serves as an industry representative for the Surplus Lines Stamping Office of Texas board of directors and on the Wholesale & Specialty Insurance Association legislative committee. Johanson is an active member in various organizations and helped to form the Women's Leadership Council.
Jeanette Ward, COO of Texas Mutual Insurance, joined the company in 1993 as an administrative assistant. During her years of experience, she worked her way up to be a member of the C suite. When the company underwent a project management transformation, Ward lead by example with her team by allowing fluent collaboration and ideas flow between team members and management. In addition to her duties, Ward mentors' women to recognize their leadership qualities, serves on the advisory board at St. Mary's Greehey School of Business, and volunteers with several charitable organizations.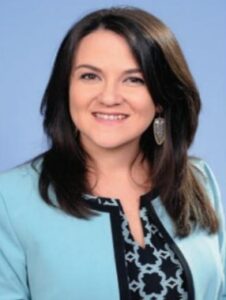 Erin Gonzalez, Vice President of Dallas MGA, followed her parents' footsteps in the insurance industry when joining the All Risks University Program in 2016. In early 2019, she helped co-lead and launch All Risks' Dallas MGA group. Since the launch, premium has grown by 157% with 72% growth of the unit in one year. In addition to her responsibilities, Gonzalez is a mentor to All Risk University graduates as well as a speaker for E&S at local universities. As an avid supporter for diversity, Gonzalez does not allow time and age to dictate the measurement of contributions made in the industry.